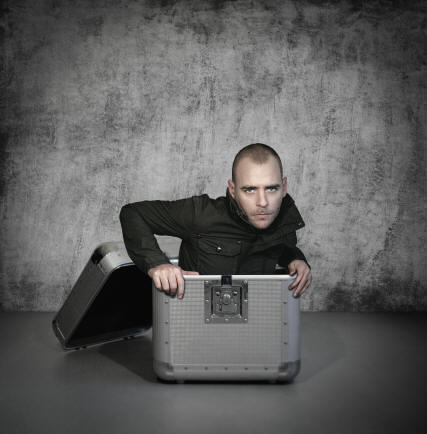 BLUNT

Tony Blunt was born in Barcelona, Spain in 1977. He has been involved in electronic music since 1996, deejaying in clubs across Spain, and has held several club residences in Barcelona, as Moog, Moviedisco, KGB, Sixth or Caldera, playing alongside artist such as Jeff Mills, Claude Young, Blake Baxter, Dave Tarrida or Funk D´Void to name by a few.
There was always a passion and a direction towards Detroit Techno and the Scene around it but his love of both House and Techno, it was always a challenge to combine the 2 styles.
By the end of 2004, finished the sound studies, Tony was working alongside Ivan Murias and soon Zwo! was born - a musical project in which the pair could share ideas. They also united forces to create the Thump Elektroniks label, oriented towards tech-house and influenced by the Detroit sound. Through Thump Elektroniks, Zwo! would publish their work together as well as their own productions.
In 2006 signed with Dpress Industries, becaming one of the main names of the roster next to artist like Jeff Bennett, Pablo Bolivar, Undo & Vicknoise or 2 Rare People and soon several releases came out, the last one, a serie of 3 eps in wich he put together the best of his repertoire futuring the talents of Soultek & Cv313, Pantha du Prince, Brian Aneurysm and Mikkel Metal who provides an excellent remixes from the original tracks.
Over recent years, Tony Blunt aka Zwo! has emerged as one of the most active producers of the spanish electronic music scene and he has been remixed by artist like The Youngsters (Fcommunications), Taho (Ovum / Delsein), Pantha du Prince (Dial), Djinxx (Fcom), Mark Broom ( King of The Snakes), Soultek (Deepchord), Tim Baker (Elephanthaus) or Mikkel Metal (Kompakt) amongst others.

His works are supported, charted and played by artist like Laurent Garnier, John Digweed, Russ Gabriel, James Talk, Beat Pharmacy, Gil Legamin, Taho, Kosmas Epsilon, Murray Richardson, Francesco Farfa o Anderson Noise between many others.
Discography

-Zwo! – Instant Herat Condition – Thump Elektroniks 2005.
-Blunt – Deep Sigh Ep. – Thump Elektroniks 2005
-Blunt – End Of Smile ep – Dpress Industries 2006
-Zwo! – Other Instant – Thump Elektroniks 2006
-VVAA – Turismo – Mensula, Brunetto, Ivan Serra, Zwo! - Dpress Industries 2006
-Zwo! – Two Ways Of feelings Vol.1 – Inout Records 2006.
-Zwo! – You and Others – Djinxx Remix – Dpress Industries 2006
-Blunt – Dark East – Inout Records 2006
-Zwo! – Broken Instants – The Youngsters Rmx
-Blunt – Method – Mark Broom, Tim Baker & Djinxx rmxs – Inout Records 2007
-Blunt – The Black Series Vol.1 – Soultek & Cv313 rmxs – Dpress Industries 2007
-VVAA – The Hooked On:es – A. Marta, Hd Substances, Sistema, Zwo!- Inout 2007
-Blunt – The Black Series Vol. 2 – Pantha du Prince & B.Aneurysm rmxs – Dpress 2007
-Zwo! – Primitive Sense – Taho Remix – Thump Elektroniks 2007-12-03


Upcoming

- Blunt "Black Series Vol.3" (Mikkel Metal Remix) Dpress Industries. diciembre 2007.
- Russ Gabriel "Three of Us" (Zwo! Remix) Thump Elektroniks. febrero 2008
- Zwo! "Epic Sense" (Sistema Remix) Neue Lärmklassiker. marzo 2008
- Blunt "Just This" (TBC rmxs) Pulsewith Records. 2008
- Pablo Bolivar "Gold Series vol.2" (Blunt Remix) Dpress Industries 2008


Next Works

Ferox Records, Dpress Industries, Thump Elektroniks


Related Links

As Blunt
www.tonyblunt.es
www.myspace.com/tonybluntspace
www.discogs.com/artist/Tony+Blunt

As ZWO!
www.myspace.com/therealzwo
www.discogs.com/artist/Zwo!