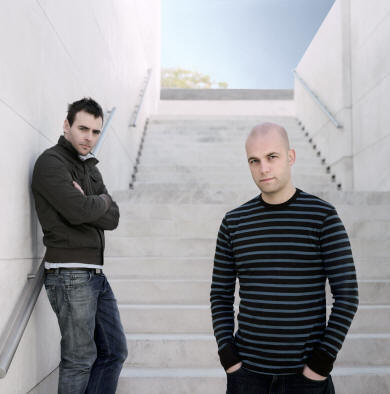 Russ Gabriel & Blunt presents DOIDE

Doide is the brand new project from Stuttgart-based Techno pioneer Russ Gabriel and Barcelona's Tony Blunt. The idea was born out of a mutual respect for the other's music and kicked off with a DJ Tour of Spain in January 2008.
There followed an intense 4-day studio session in which the pair realised the combination of Russ's experience in track-crafting and Tony's perfectionistic attitude to sound would forge a lasting partnership in electronic music production.
Russ has been at the forefront of electronic music for over 15 years. Since the foundation of his own Ferox Records, he went on to produce for Djax-Up-beats, Planet-E, Force Inc, Soma, Peacefrog, Magnetic North, GPR and many more of the forces of the wave of 90's Techno. The Collaboration with Tony marks a new era in Russ's music production where his work for Sushitech's sister label Pariter and the relaunch of the Ferox imprint has inspired Russ to embark on this collaboration.
Tony is the head-honcho of his own Thump Elektroniks and his work with Barcelona's Ivan Murias as "Zwo" has already
left its mark on the techno community. DJing since 1996, Tony's productions on Thump and his work on the Dpress
Industies label are high on the playlist agendas of Laurent Garnier, James Talk and Ovum's Taho among many others.
Taho has already been involved in retouching one of Tony's productions as have Mark Broom, Soultek, The Youngsters,
Mikkel Metal and Djinxx to name a few.
[Live Act]

The work of Doide was from its outset conceived with live performance in mind and the creation of a set for live
presentation of Doide's sound was an integral goal of the duo (Russ Gabriel and Tony Blunt). Doide's unique take
on electronic dance music has been created by an amalgamation of influences from Soul, through the deeper side of
Techno to the sound of Detroit. This can be heard in their live performances which merge inventive beats with
elaborately-textured layers of sound and refined and elegant melodies.

download live act link: www.doide-music.com/Doide_Live_at_Cadiz_Sample.mp3

Related links / Links relacionadas:

Artist
www.myspace.com/doide
www.myspace.com/russgabriel
www.myspace.com/tonybluntspace

Artists' own Labels
www.feroxrecords.com
www.myspace.com/thumpelektroniks