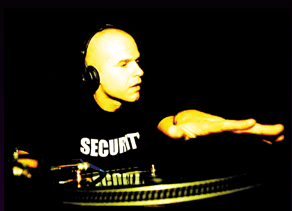 ERIC ENTRENA

Eric was born in Barcelona (1978), one of the most exciting and vanguard European capitals. This is the city where he has grown and been recognized as one of the most important spanish dj's and producers of the moment.

Eric hops the borders to play in cities all around the world: Paris, Moscow, Mexico DF, Rabat, Kiev, Shanghay, Pacha 'Sharm El Sheikh, Berlin or Ibiza. These are some of the dancefloors that have vibrated with his house sets.

Elegance, Quality and taking care of the Dancefloor are his main words. His non-stop travelling has teached him to be a dj which his versatility through all the house music different styles has been his great ally. His sixth sense for connecting with the crowd through his music is his great weapon; he takes the dancefloor to a climax which always makes him repeat his visit to every club he goes to play. This great skill, allows him to play in small clubs or in large events like the LOVE PARADE, in Berlin or the B-PARADE, in Barcelona.

He has been nominated as "Best House Deejay of the year 2003" by the Spanish Deejay Awards; with names such Wally Lopez , D-Formation or Dj Chus. He also have monthly residency @ SPACE Barcelona with his own party;

He also manages his own music label, Toro Recordings, which is distributed worldwide by Intergroove.

As a producer, his tunes have been played by some of the most relevant djs all over the world. Roger Sanchez, Dj Vibe, Peter Rauhoffer, Seb Fontaine, Simon & Shaker, Piliavin & Zimbardo, DJ Chus, Deep Dish or Dany Tenaglia have supported some of his tracks . His tracks have been included in some of the most prestigious compilations of the world such Ministry of Sound, and in the best clubs of the world compilations, like Privilege Ibiza, or El Divino de Ibiza or Space Ibiza, for example. His tracks have also been included on Playstation'2 Decks & FX's Game.

He has released his tracks in some of the most important underground labels of the world; Purpose Records (UK), Bamboo Music (Australia), Distraekt Recordings (UK), Stereo- Productions (Spain), Tweek'd Records (USA), RPO Traxx (France); Deep-e-perfect (Italy) or Fresco Records (Spain).; has been remixed by some of the greatest remixers of the world like Dylan Rhymes, Hess & Nick Dem Q, David Gausa, Dr. Kucho, Rick Pier O'Neil, Cesar del Rio & Juan Magan, David Amo & Julio Navas, Julian Poker, Rhythm Code or Peter Bailey; and has remixed tracks of well known artists in the world dance scene such Dj Rooster & Sammy Peralta or Ralphie Rosario.

DISCOGRAPHY

RELEASES

Eric Entrena - Do You Feel All Right ? (Tanga Records) inc David Gausa Remix
Eric Entrena & James Cool - X-perienced Girl / The Nightlife (Tanga Records)
Eric Entrena & James Cool - Galactica (Cool Sound, Deep-e-perfect)
Eric Entrena & James Cool - Energy (Purpose Records) inc Dylan Rhymes Remix
Eric Entrena - Let The Music Move You (Bamboo Music) inc Dr Kucho Remix
Eric Entrena - Here Comes That Sound (Stereo Productions) inc Julian Poker Remix
Eric Entrena - Arabian Nights (Bamboo Music) inc Cesar del Rio & Juan Magan Remix
Eric Entrena & RPO - House Music is Freedom (RPO Traxx)
Eric Entrena - Electric Shock (Distraekt Records) inc Peter Bailey Remix
Eric Entrena & RPO - Closer (Wi-Fi Recordings)
Eric Entrena vs David Amo & Julio Navas - Let There Be Light (Fresco Records)
Eric Entrena - Africa / Oceania (RPO Records)
Eric Entrena & RPO - Electrotribal (Bilingual Records)
Eric Entrena vs RPO - Truly One (RPO Traxx)
Eric Entrena Vs David Amo & Julio Navas – Matador / Feel The Force (Toro Recordings)
Eric Entrena & RPO - Seduction (Toro Recordings)
Eric Entrena & Del Horno - The Future / This is House (Toro Recordings)
*Eric Entrena vs David Amo & Julio Navas - Heart and Soul (Tweek'D Records) inc Saeed Younan Remix
* Eric Entrena vs Le Ron & Yves Eaux - Life's a Beach (TBA)

REMIXES

L'Uomo - El Fuego de Tus Labio (Eric Entrena VS Les fils du Soleil Remix)
Dj Tomer - And Now You Left Me (Eric Entrena & RPO Remix) Tweek'D Records
Dj Rooster & Sammy Peralta - Move Your Body (Eric Entrena Remix) Tweek'D Records
* Ralph Rosario - Brinca (Eric Entrena vs David Amo & Julio Navas Remix)
* Sumantri - Tell Me (Eric Entrena vs David Amo & Julio Navas Remix) Tweek'D Records
* Paco Buggin & Joy Marquez - Wake Up (Eric Entrena Remix) Distinto Rec/Beatfreak
* indicate forthcoming release

www.ericentrena.com