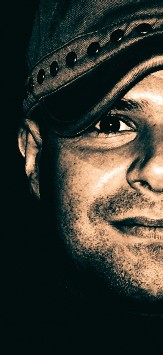 NIKI B & CHRISTIAN E.F.F.E.

Niki & Christian aka SONAR were respectively born in 1975 and 1977 and live in Genoa; a great sea "place" in Italy.
They moved their first step as DJ's in 1993 and the great music feeling between the two made them want to create something of their Own; in 1999 "ESSENCE STUDIO" was born, a place where Niki and Christian meet every evening, in front of pc and a keyboard, they try to create their own sound, not leaving out the musical tendencies.
In 2000 they present a project called "AFRìK" to DJ MIKI, who in the meantime has given life to a label very underground, the SUN GENERATION REC. Miki falls immediately in love with the project, and he wants it for his label. Niki & Christian's music project is born and they call it SONAR, exclusive for the SUN GENERATION REC. "AFRìK" propel Niki & Christian into the U.K. market, and many doors open for them with different world labels (SAW REC, RENAISSANCE, PRIMATE REC, FIRE MUSIC REC, STAR 69 REC,SWIFT REC, ABSOLUTELY REC, PRESSLAB REC, PURE SUBSTANCE REC and many more)
Some of their productions are supported by international DJ's such as, SATOSHI TOMIIE, CARL COX, JOHN DIGWEED, DAVID MORALES, STEVE LAWLER, DANNY HOWELLS, MURK, TOM STEPHAN, HECTOR ROMERO, ALEX NERI, RALF, DANNY TENAGLIA, DEEP DISH, G-PAL, who include them in their world compilation and charts. Two important magazine, MIXMAG and IDJ, speak about Niki & Christian like a new Italian revelation for DJing and productions.
Satoshi Tomiie says:
'Niki b & Christian E.F.F.E. (aka Sonar) are two italian djs/producers with one goal on their minds - to create underground music that leaves punters on the dance floor screaming for more when the smoke clears. The duo has steadily built a career with their records filling the boxes of top dance luminaries such as John Digweed, Steve Lawler, Deep Dish and Murk.'
Until today they collaborate with important pop artist such us: Kissing The Pink, Simple Minds, Elisa.
Some Italian Clubs: Insomnia, Jaiss , Utopia after-tea @ Jasmine , Kouplasma after-hour @ Taverna Jory, Temutameta after-hour,Hacienda after-hour , Imperiale ,Covo di Nord-Est, and many more. 2005 has seen Niki & Christian gracing the decks for two big event : MTV Urban Beats / DIGI in Kuala Lumpur and Faial Beach Party in Madeira.
Niki & Christian are free-lance, they always play together, proposing a global sound that varies from house to progressive-tribal and break; their set is four-hands-show, where they put to use their experience.
Discography + Remixography

RELEASES

Sonar - "Afrik"
Sun Generation rec. -2001

Christian E.F.F.E. & Niki B - "Mekkanika"
Primate rec.-2002
( featured on STAR69 records Oscar G @ Space Compilation-2003)

Christian E.F.F.E. & Niki B - "Shadow"
Minimalistik rec. -2002

Christian E.F.F.E. & Niki B - "Bodhisattva"
Minimalistik rec. – 2002
(featured on Minimalistik records Paolo Kighine Compilation)

Sonar - "Brazilia"
Sun Generation rec. - 2002

Niki B & Christian E.F.F.E. - Jamaik"
Presslab rec. - 2003

Niki B & Christian E.F.F.E - "Heart"
Fire music- 2003

Niki B & Christian E.F.F.E. - "Another Day"
Presslab rec.- 2003

Sonar - " Stop Complaining"
Sun Generation rec.- 2004

Niki B & Christian E.F.F.E. - "Electrica Salsa 2004"
Presslab rec. - 2004

Niki B & Christian E.F.F.E. - "Behind the Fame"
Saw recordings – 2004
(featured on WPM Rec. Dj Nukem compilation 'Backstage')

Niki B & Christian E.F.F.E. - "Electrica Salsa 2004"
Presslab rec. - 2004 the remixes by G-PAL

Niki B & Christian E.F.F.E. - "Eyes" (Disc 1)
Swift rec. – 2004
(featured on Helen K Compilation Greece)

Niki B & Christian E.F.F.E. - "Lost" (Disc 2 )
Swift rec.- 2004

Niki B & Christian E.F.F.E. vs Menca - "Scorpia"
Minimal rec.- 2005

Niki B & Christian E.F.F.E. - "The African Song"
Cp rec.- 2005
Niki B & Christian E.F.F.E. - "I Remember"
Solar rec.- 2005
(featured on STAR69 records Peter Rauhofer Compilation)

Niki B & Christian E.F.F.E. – "It's Too Late To Turn Back"
Mantra Smile rec. -2005

Niki B & Christian E.F.F.E. – 'Can't Stop The Fire (of the vinyl)'
Distraekt rec (UK) - Jan 2006

Niki B & Christian E.F.F.E. – 'Move Ur Body'
Mantra Smile rec. ( I ) – Jan 2006
(Licensed on Francesco Farfa & Joe T Vanelli Compilation 'Supalova' 11)

Niki B & Christian E.F.F.E. – 'Caustic EP (Werk/Massages)'
Mantra Smile rec. ( I ) – March 2006

FBY – 'Lust'
Mantra Smile rec. ( I ) – Jan 2006

Niki B & Christian E.F.F.E. – 'Caustic Heaven Mix'
Mantra Smile rec. ( I ) – April 2006
(available on DJDownload.com exclusively)

Niki B & Christian E.F.F.E. - Mood EP
Renaissance Digital - December 2006

REMIXES

Tantamanna - "Soul food" -
NIki B & Christian E.F.F.E. RMX
Presslab rec. - 2002

I'Jack - "Falling" -
NIki B & Christian E.F.F.E. RMX
Renaissance rec. -2003

Tantamanna - "Do you love me too"
NIki B & Christian E.F.F.E. RMX
Presslab rec. - 2004

Elisa - "Heaven out of Hell " -
NIki B & Christian E.F.F.E. RMX - 2003

Simple Minds- "Woman"
NIki B & Christian E.F.F.E. RMX
Fire music - 2004

Kissing the Pink - "One Step"-
NIki B & Christian E.F.F.E. RMX
Absolutely rec. - 2004

Simple Minds - "Alive %26 Kicking"
NIki B & Christian E.F.F.E. RMX
Absolutely rec. - 2004

ADF - "Obsession"
NIki B & Christian E.F.F.E. RMX
Method rec.- 2004

Wally Lopez & Cesar Del Rio - "Are You Ready"
Niki B & Christian E.F.F.E. rmx
Formula rec.- 2005
(featured on La Factoria Discos rec. Wally Lopez compilation 'I'm Coming to Paris')

ADF - "selection 1 " –
Niki B & Christian E.F.F.E. rmx
Feed Me rec.- 2005

Andrew K - "Travelogue"
Niki B & Christian E.F.F.E. rmx
MO-DO rec.- 2005

Tantamanna-"Talking"
Niki B & Christian E.F.F.E. rmx
Saw rec.- 2005

Alex Dolby – 'Obsessive Sound'
Niki B & Christian E.F.F.E. rmx
Mantra Vibes rec. – December 2005
COMING SOON:

*Le Petit Prince - Elegante (Original & Adam Freemer Remix)
Lajja rec (PT) – out September 2006
www.myspace.com/nikibandchristianeffe